TON-UP jeans are the single layer toughest pair of jeans you can get. Durable denim made from UHMWPE (ultra high molecular weight polyethylene) can better withstand the wear-and-tear of an active lifestyle or full blown motorcycle protection.
This durable denim is stronger than steel and can float on water. Very simple design of the pants gives almost an innocent appearance, and civil look, but the performance of the jeans provides the best protection on the current market. To even increase the level of protection, TON-UP jeans include Trilobite® Premium Protection CE Level 1 in knees and hips which are the best option for extreme shock absorption.
The straight regular fit jeans have a secret pocket on the side and for maximum strength the outside seams were triple stitched. The UHMWPE denim has exceptionally high cut and abrasion resistance compared to other fabrics which makes it almost impossible to tear. The Ton- Up jeans surely satisfy the high end rider who desires the comfort, civil look design and the extreme protection at the same time. 2% of elastane blended in yarns of UHMWPE with cotton provides the comfy stretchiness of the pants. If you are looking for motorcycle jeans with almost super hero powers and classy look, the TON UP must be your choice.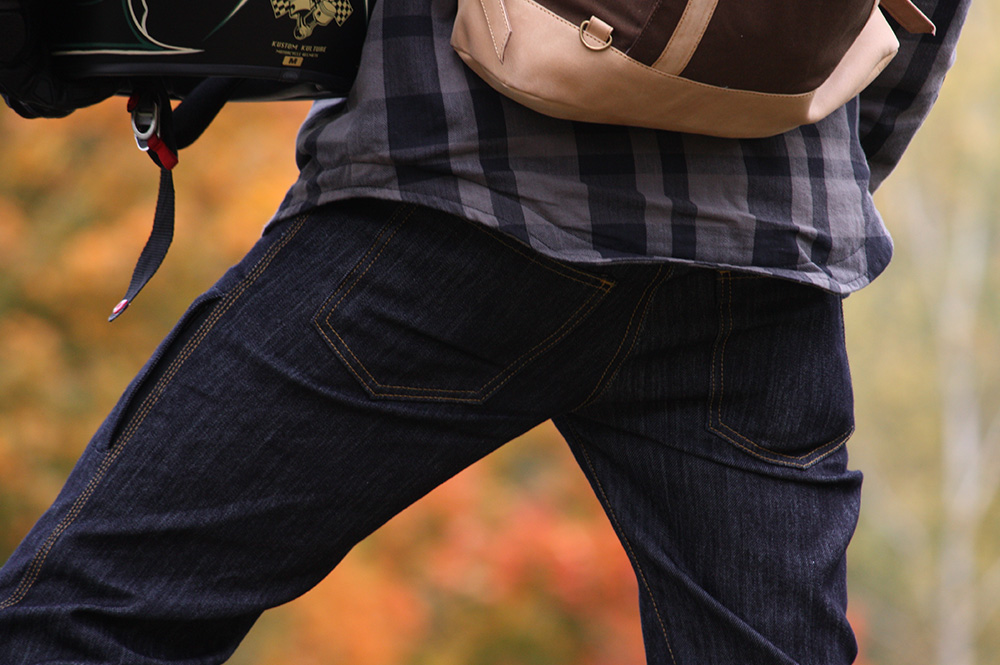 Outer material:
52% Dyneema (UHMWPE), 37% Cotton, 9% Nylon, 2% Elastane

Protection:
Trilobite® Premium Protection CE Level 1 for hips and knees
Dyneema® denim
Triple outseam stitching

Ergonomic features:
2 outer pockets; 1 side secret pocket

Fit:
classic bikes, gentlemen riding and on road style, men EU sizes (30 – 44). Perfectly matches with Trilobite® Symphis Rocker, Acid Scrambler and Kickstart jackets, Genuine vest and Distinct shirts

Color version:
dark blue
Color version:
dark blue
Sizes:
only in MEN version - 30 | 32 | 34 | 36 | 38 | 40 | 42 | 44
Durable apparel that can better withstand the wear-and-tear of an active lifestyle or for full-blown motorcycle protection. Extremely difficult to tear or break the fabric. Noticeably higher cut resistance compared to regular fabrics and special cutting tools are required to cut the fabrics.
Register your TON-UP jeans by using their unique serial number.

Trilobite people will help you with any issue related to your TON-UP jeans you might encounter when using them. Whenever you need some service on your TON-UP jeans, Trilobite team is here for you... If you need some spare parts, just contact us and we will send them to you....

But firstly please finalize your registration so that we can take special care of you and your TON-UP jeans!



Unlike others, TON-UP jeans were born in authentic atmosphere and they draw inspiration from the past. You are getting a unique piece of garment that creates a real story with trackable path. This is what heritage is all about!
new performance material Trilobite® Techfoam PRO
meets EN1621-1:2012 standards
CE 1 level
extreme shock absorption
multi-layer
elastic and flexible
ergonomically shaped
breathable perforation
lightweight

UHMWP in the Ton-Up denim has a melting temperature of 140-144ºC and therefore any expospure to temperatures higher than 130ºC, even for a short period (seconds) should be avoided. Hence the recommendation to iron at max 110ºC/230ºF and tumble dry at low temperatures.
Even though Ton UP jeans denim itself is chemically inert and therefore resists almost all type of chemicals, it is not recommended to bleach nor dry-clean denim with Dyneema to prevent quality issues realted to the cotton fiber in the denim.